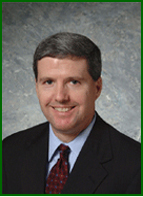 Hal Bailey was born on June 10, 1957 in Tifton, Georgia and graduated from high school in Savannah, Georgia in 1975. He attended college at St. Andrew's Presbyterian College in Laurenburg, North Carolina, where he graduated in 1980 with a Bachelor of Arts degree in political science. He graduated from Emory University School of Law in Atlanta, Georgia in 1986 and began a legal career devoted almost entirely to the representation of victims of personal injury and wrongful death.
Hal came to Jones Granger in our Atlanta, Georgia office in 1990, where he has represented injured railroad workers of all crafts throughout the eastern US. He is licensed to practice law in four states and has tried cases in courts from New York to Florida.
In addition to his continued representation of victims of traumatic injury, Hal also focuses on victims of toxic exposure and chemicals in the workplace. Mr. Bailey is a member of the law firm of Jones Granger, which serves or has served all railroad trade labor unions.
Professional Associations:
State Bar of Georgia
The Mississippi Bar
The Florida Bar
The Alabama Bar
US District Court
US Circuit Court of Appeals for the 6th Circuit
US Circuit Court of Appeals for the 11th Circuit