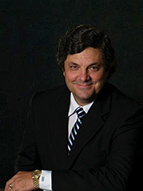 Bruce E. Halstead graduated from Florida Atlantic University with a Bachelors of Business Administration Degree in Finance in December 1984. Mr. Halstead then attended South Texas College of Law and was awarded a Doctor of Jurisprudence Degree in May of 1987. He was licensed to practice law in November 1987 and has practiced with the firm of Jones Granger in Houston, Texas. He has represented many railroad workers in occupational disease injury cases such as asbestos, hearing loss and silicosis.
In addition to representing railroad workers and retirees over the past 27 years, Mr. Halstead has continued to have personal contact with union members of all crafts in an attempt to educate and counsel them with regard to their rights and protection under FELA.
Mr. Halstead is admitted as an attorney and licensed to practice law in all Texas State Courts by the Supreme Court of Texas and is licensed to practice in the US District Court for the Southern District of Texas. Mr. Halstead is a member of the law firm of Jones Granger, which is approved and designated by railway trade labor unions.
Professional Associations:
State Bar of Texas
Academy of Rail Labor Attorneys